INVENTORY ANALYSIS
When analyzing the real estate market, one of the factors that need to be taken into
consideration is the absorption rate.
Absorption rate is the number of months it would take to sell
the currently listed properties in the market and it is used to
attempt to predict home prices and sales activity going
forward.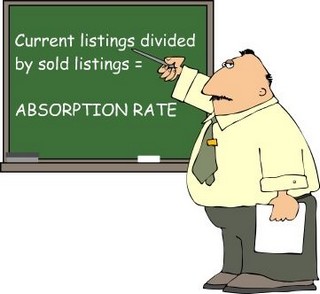 The absorption rate noted on these charts shows how many months it would take for the all
of the currently listed properties in that category to sell, based on the sales activity over the
past year.
ROUTT COUNTY (incl. Steamboat Springs)
SINGLE FAMILY HOMES
| | | | |
| --- | --- | --- | --- |
| | Current Listings | Sales in Past 12 Mos. | Absorption Rate |
| Total | 300 | 392 | 9 months |
| Under $500K | 56 | 148 | 5 months |
| $500K – $1M | 75 | 154 | 6 months |
| $1M – $3M | 113 | 82 | 17 months |
| Over $3M | 56 | 8 | 7 years |
CONDOS & TOWNHOMES
| | | | |
| --- | --- | --- | --- |
| | Current Listings | Sales in Past 12 Mos. | Absorption Rate |
| Total | 191 | 532 | 4 months |
| Under $500K | 90 | 353 | 3 months |
| $500K – $1M | 63 | 151 | 5 months |
| $1M – $3M | 30 | 27 | 13 months |
| Over $3M | 8 | 1 | 8 years |
LAND
| | | | |
| --- | --- | --- | --- |
| | Current Listings | Sales in Past 12 Mos. | Absorption Rate |
| Total | 502 | 233 | 2+ years |
| Under $500K | 365 | 206 | 21 months |
| $500K – $1M | 74 | 17 | 4+ years |
| $1M – $3M | 47 | 7 | 6+ years |
| Over $3M | 16 | 3 | 5+ years |
STEAMBOAT SPRINGS
SINGLE FAMILY HOMES
| | | | |
| --- | --- | --- | --- |
| | Current Listings | Sales in Past 12 Mos. | Absorption Rate |
| Total | 108 | 194 | 7 months |
| Under $500K | 7 | 33 | 3 months |
| $500K – $1M | 35 | 104 | 4 months |
| $1M – $3M | 47 | 53 | 11 months |
| Over $3M | 19 | 4 | 4.5+ years |
CONDOS & TOWNHOMES
| | | | |
| --- | --- | --- | --- |
| | Current Listings | Sales in Past 12 Mos. | Absorption Rate |
| Total | 168 | 502 | 4 months |
| Under $500K | 71 | 325 | 3 months |
| $500K – $1M | 61 | 150 | 5 months |
| $1M – $3M | 28 | 26 | 13 months |
LAND
| | | | |
| --- | --- | --- | --- |
| | Current Listings | Sales in Past 12 Mos. | Absorption Rate |
| Total | 100 | 84 | 14 months |
| Under $500K | 46 | 69 | 8 months |
| $500K – $1M | 28 | 11 | 2.5 years |
| $1M – $3M | 14 | 1 | 14 years |
| Over $3M | 12 | 3 | 4 years |