Steamboat Sotheby's International Realty will be hosting the VIP tent at Steamboat's Free Summer Concert Series.

July 10th, Steamboat Sotheby's International Realty will host the VIP tent at the Free Summer Concert. Come by and say hello!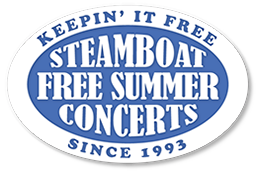 The Steamboat Springs Free Summer Concert Series
The Steamboat Springs Free Summer Concert Series (SSFSCS/the Series) began in 1993 as a small concert series with several hundred in attendance and presented on the lawn of the Routt County Court House, the community gathering space in the heart of downtown Steamboat Springs. Started by a small record shop owner and friends, the Series now features 5 concerts per year with attendance averaging 3,500 to 7,000 per concert for an annual average of 25,000. The SSFSCS boasts nationally recognized artists in the area of pop-rock, reggae, bluegrass, blues, and funk. The series is a gathering for all ages and has become truly one of the signature family events in the valley. Audience sizes can fluctuate relative to the performer's popularity or how the concert is schedule in relation to signature event weekends. The attendance is generally 20% visitors and 80% locals. One of the most compelling rewards of this program is the access to great music for the regional work force. With the stratification of the haves and the have-nots in our rural resort community, the Series is supported by many businesses as a way for them to provide added benefit to their employees.
Friday's show features Jonny Lang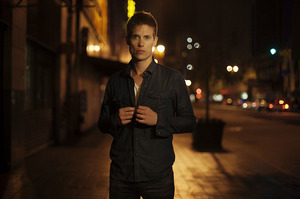 Sixteen years ago, at the age of 16, Jonny Lang found incredible success with the release of his major label debut album Lie To Me.  Fame does not seem to have impacted him from being the same country farm boy from Fargo, ND who got his start in the local clubs of Minneapolis.  He survived the passage of youth to adulthood, fell in love, began a family, and in the process passed through the life lessons we all endure.  He has a keen sense of what he aims to achieve creatively, what music means to him, and is focused on the impact that his songs bring to the lives of those that encounter his repertoire.  For Lang, with the release of Fight For My Soul, he is entering a chapter wherein he has found his true voice.
When asked what he would tell his younger self if he was afforded the opportunity to share advise, he wisely answers, "I would say all of those voices steering you away from questionable decisions, listen to them.  They are right."  He has encountered many in the public eye through his career that approaches two decades.  With those experiences, and the personality traits he has witnessed, he has a clarity of how he wants to be, and how he wants to treat others.
This sense of who he wants to be is the core of the album.  Lang shares, "The inspiration for the songs on the record vary widely.  Some are about personal struggles, some are focused on injustices I have seen.  Some are random fictional stories that hopefully can relate to people in some way that is a blessing to them.  I've wanted to make this album for a long time.  Creatively, I think there is a lot more going on inside of me than I've been sharing on recordings."
The album defies categorization by a single genre.  The textured arrangements, broad worldview, gorgeous vocal melodies, and expressive guitar playing are what defines Fight For My Soul.  It is unequivocally what Lang aimed to achieve over the long period he has been working on reaching a realized vision.  He offers, "Much of what I've experienced through music and life in general is in these songs.  I really like reaching out and connecting with people.  For me, this is what it's all about.  It keeps it fresh with different experiences every day."
Lang has been working on the release for three years with Producer Tommy Sims, who co-wrote Eric Clapton's Grammy winning "Change the World."  The duo collaborated on the project from the ground up. The first step was fine-tuning the soulful numbers Lang demo'd at home.  He relates, "Sometimes I write music that I could never imagine putting on a record, and thanks to Tommy's ability to see the continuity in these songs, where I might not have, they are on the album.   Sims also brought in one number, the acoustic-electric soul-rocker "Blew Up (The House)," and played several instruments the album that include resonator guitar on that tune, and contributing world class bass guitar performances on select others.
This grass roots approach was new to Lang, whose four earlier studio albums were written and crafted under the watch of his previous record labels.  It was a welcome change. After Lang released his Grammy winning Turn Around in 2007, he made the decision to forego the major label route and became an independent artist. The first result was 2009's Live At the Ryman, but Fight For My Soul, by its nature, is his first fully realized artistic achievement through his own label SayRai Music, featuring his own touring band: drummer Barry Alexander, bassist James Anton, rhythm guitarist Akil Thompson, keyboardist Dwan Hill and background vocalist Missi Hale.  "Recording with the band for the first time was really gratifying," says Lang. "They're all amazing musicians and we've grown together musically and personally by playing hundreds of live shows.  This served us well in the making of Fight For My Soul.  Because of them, I have grown musically in ways I never thought I could, and it really is an honor to have them on this record."
Lang's full touring schedule as well as making his family a priority in his life, are the primary cause for the length of commitment it took to deliver this album.  He reflects, " Between being with my family, and being out on the road touring, the last thing you want to do when home is to go and make a record.  We have had to pick our spots to fit in recording time.  In the last year, we've been able to work on it more consistently, and to finally wrap this thing up.  And with the delivery to label partners Mascot in Europe and Concord for North America, he achieved what he set out to deliver offering, "I'm really happy with the body of work we have for this one.  It's kind of hard to be excited and know what the record was going to be like when the process is extended over such a long period of time.  Today sitting here I am really proud of the recordings."
As an artist he has evolved since he began the writing process.  The sound of that evolution is all over Fight For My Soul. "What You're Looking For" carefully layers banjo, guitars, spacey keyboards and a percussion sample to create a sonic dreamscape for its story of searching for life's essentials — faith, love, hope. The arrangement of "We Are the Same" evokes the freewheeling spirit of Motown's Psychedelic Shack era.
The path Lang has been on has brought him the opportunity to interact with some of the most respected legends in music.  On the way up, he shared the stage with The Rolling Stones, B.B. King, Aerosmith, Sting, and Buddy Guy, who he continues to tour with today.  As a 12-year-old, he began a journey in Fargo, ND that has brought him to points across the Globe, and as he looks on the upcoming near-term future, he shares, "With this album, I really look forward to bringing our music to people in places where I've never been before.  Music is one of the greatest conveyers of ideas and emotions, and in a sense that doesn't have as much to do with the individual performing, but the power of the connection.  One of my goals is the music can be a blessing to the people listening to it in some way.  And if Fight For My Soul can help somebody by making them feel better or that they're not alone, that's my idea of success for this album."