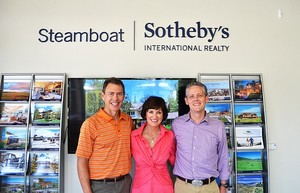 Steamboat Springs — Some evening in the next couple of weeks, Realtors and staffers from Steamboat Village Brokers will fan out across Routt County and swap for-sale signs in front of homes and acreages for new signs bearing the brand of Steamboat Sotheby's International Realty as Steamboat's two-longest tenured brokerages merge.
Steamboat Sotheby's International's Pam Vanatta and Cam Boyd confirmed this week that David Baldinger Jr., of Steamboat Village Brokers, will join them as one of the principals of Steamboat Sotheby's, co-managing the firm. All three will have equity in the company.
Steamboat Village Brokers was founded in 1983, and Baldinger described the conjoining of the two firms, as a true merger.
"There was no transfer of real estate or hard assets," he said.
Steamboat Sotheby's International was founded in 1991.
When the merger is complete, Baldinger Jr. will continue to be based out of the former Steamboat Village Brokers office in Ski Time Square. He said his agents are enthused over the news of the merger. He expects there to be details that will remain to be ironed out over the next few weeks.
"You can't expect people to just interrupt their business," he said. "One of our goals is to make this a smooth transition."
Vanatta said the merger, which involves more than 80 Realtors, will make both companies stronger. The former Steamboat Village Brokers offers the combined companies a well-established office right at the edge of Steamboat Ski Area that is populated by Realtors with particular strength in the luxury market and knowledge of the local market that matches that of her brokers.
"The industry is changing," Vanatta said. "Steamboat Village Brokers has represented a lot of luxury properties. They work with a lot of second homeowners as well as primary owners and they understand the luxury brand. They are very well respected. I think what Steamboat Village Brokers is seeing in Steamboat Sotheby's International is a company that innovates both globally and locally. There's no question Steamboat Sotheby's will bring the expertise and innovation we need to stay ahead."
Boyd said he and Baldinger have been discussing the possibility of a merger for more than a year since they shared a meal at a locals hangout.
"Dave and I sat outside of the T-Bar one sunny day, and we started talking about, what if we partnered up?," Boyd recalled. "We have a lot of things that Dave's agents could take advantage of to help their business grow. And they had great agents and a location that could help us grow."
Steamboat Sotheby's International Realty now has offices strategically located in downtown Steamboat, at Wildhorse Marketplace and on Ski Time Square.
The working relationship among Realtors from different firms is collaborative by definition; it's commonplace for a Realtor from another firm that the listing broker works at, to bring the buyer to a sale. Boyd said his first sale ever in Steamboat involved Arlene Zopf of Steamboat Village Brokers on the other side of the deal.
Vanatta, Boyd and Baldinger Jr. all agreed that the key to their collaboration will be the ability Sotheby's International provides to extend the exposure for their property listings in Northwest Colorado to national and global markets.
"By bringing together two of the region's most established, locally-grown and locally-owned real estate firms, our team of professional brokers will be better positioned to offer the highest level of service to our clients," Baldinger Jr. said. "In considering this merger, I realized that the time had come to make a change in response to the modern shifts in our clients needs.
"The affiliation with Sotheby's International Realty gives us the strength, marketing power and reach of a global brand with an established reputation for quality…," Baldinger Jr. continued. "This merger allows all of our agents to take advantage of a full-time, dedicated and professional management and creative services team. Combined, we will offer our customers an unparalleled experience and deep roots in the areas we serve."