Steamboat Springs Ski Mountain Area
[idx-platinum-widget id="13798-46201″ ]
Mountain
---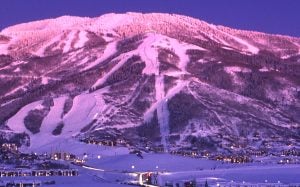 Known as the main attraction of Steamboat Springs, the Steamboat Ski Mountain area is the epitome of a ski–resort lifestyle. Know as "The Mountain", the Steamboat Ski area host properties ranging from multi-million dollar homes blocks away from the slopes to ski in/ ski out condos. The Mountain's real estate offers a wide variety of options. If you want the opportunity to hop from bed onto the ski lift, or to buy a vacation home and rent it on a nightly basis, the Mountain is the ideal place to buy. Not only does the Mountain provide exceptional real estate, but many excellent resorts also offer timeshares. If you already live in Steamboat, a time-share would allow you access to the resort's amenities and also the ability to do trade-ins, giving you a vacation somewhere new. The options are endless.
Up at the Mountain, there are always enjoyable activities and events to be found. In the winter, day and night skiing, world-class competitions, and happy hour are all very popular. The mountain is surrounded by local restaurants and eateries that are perfect to sit back and unwind after a long day of skiing. In the summer, biking, hiking, and a wide range of concerts are only a few of the many activities the Mountain Area has to offer. This past year, Steamboat's free concert series brought artists such as Ziggy Marley and the Jeff Austin band to the stage. Each year, they succeed in finding even more notable artists to perform for Steamboat Springs. At the Steamboat Mountain, there is always something to do. It's the perfect place to experience Steamboat Springs and all it has to offer.
---
Let's Find Your New Home in the Steamboat Springs Mountain Area
When you're ready to explore the Mountain real estate listings, I can help you find the home that's perfect for you.
Call me at 970-879-8100 or send me a note to tell me what you're looking for. I know each subdivision and neighborhood, and I'll be happy to put that knowledge to work for you.
Popular Mountain Home Searches
Trending Mountain Homes
[idx-platinum-widget id="13798-46214″ ]