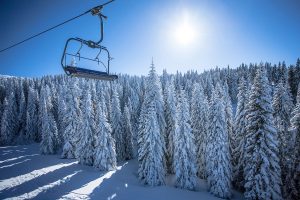 It's officially official. The sale of the Steamboat Ski Area, as part of Intrawest Resort Holdings, is now final, according to a story released Monday by the Steamboat Today. The new joint venture of KSL Capital Partners and Henry Crown and Company (HCC) will combine Squaw Valley Ski Holdings, KSL, Intrawest and Mammoth Resorts into one company with a total of 12 mountain resorts.
The new entity's resorts include ski areas in Colorado (Steamboat Ski Area and Winter Park), California (Squaw Valley, Alpine Meadows, Mammoth Mountain, Snow Summit, Bear Mountain and June Mountain), Canada (Blue Mountain in Ontario and Mont Tremblant in Quebec), Vermont (Stratton Mountain Resort) and West Virginia (Snowshow Mountain Resort).
In a news release sent on Monday, KSL's Bryan Traficanti, who was named interim chief executive officer of the new company, states, "We believe that each resort brings something different to the company, and our goal is to preserve the unique character and culture of each while also building something greater. Supported by affiliates of both KSL an HCC, this new organization is well positioned not only for continued growth, but also to bring more value to our guests, more opportunities for our employees, and more investment into our local communities."
The new company will be launching a new name and branding prior to the 2017-2018 ski season, and will honor existing passes that are currently on sale for each of the resorts.
The finalized sale of the Steamboat Ski Area to the new company brings excitement, anticipation and a buzz around town, as many speculate how the sale will ultimately affect our local community, the economy, and the overall skier/rider experience at the ski area.