Steamboat Springs Real Estate Market
Unprecedented and unpredictable. Two adjectives describing the 2020 Steamboat Springs real estate market.
The year started with the announcement of a pandemic, forever changing life as we knew it. From a real estate perspective, a "COVID Freeze" fell upon the market in February. Buyers stopped buying and sellers pulled their properties off the market. People realized they could effectively work from home.
Compounding the pandemic panic was the rioting that hit several big-city streets, giving some a reason to look elsewhere for a safer haven and healthier lifestyle with small-town living.
The exodus for those wanting a change seemed to hit towns like Steamboat Springs in earnest around the end of May, and the market literally went from freeze to boil overnight.
What ground was lost from the first five months of 2020 was all made up, and then some, with the last seven months, as nearly every major record was broken for the Steamboat
Springs Multiple Listing Service. The only record that was not broken was the total number of transactions. 2020 posted 1,655, missing the record of 1,729 in 2007, but still bettering
2019 by 33% (1164). Total dollar volume was $1.217 billion, bettering 2007 by 21% ($1.003b) and 2019 by 50%. The amazing fact with these results is that sellers still held off placing their properties on the market, causing buyers to scramble with an offer as soon as something came available.
One measuring stick for the health of a real estate market is the "Absorption Rate." It is the dynamic between supply and demand and used to evaluate the rate at which available properties are sold in a specific market during a given time. It is calculated by dividing the number of properties sold in the allotted time by the total number of available properties. The second quarter of the year posted a 22% rate, meaning 22% of properties available for sale were purchased in those three months, to 76% in the third quarter, and then to 108% in the fourth quarter.
In 2020, demand for Steamboat Springs real estate far exceeded supply.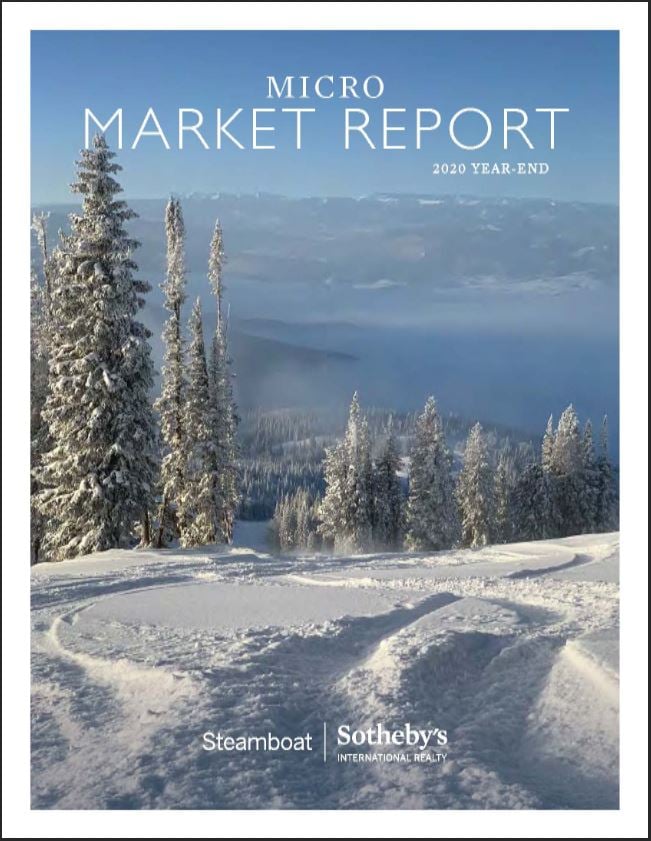 https://assets.thesparksite.com/uploads/sites/1542/2021/02/MircoMktReport-2020YearEnd.pdf