Significant Sales
REPRESENTED BY THE SOTHEBY'S INTERNATIONAL REALTY® NETWORK
The Boyd Team are proud to share that one of Cam Boyd's recent sales made it in the latest issue of Significant Sales, a monthly publication of the top transactions in the Sotheby's International Realty network.
From Volume I
Issue XII
Every home has a story
The sprawling Vista Verde Ranch in Clark, Colorado, built in 2010, is an 83,000-square-foot property most recently
used as a guest ranch. Earning a AAA Four Diamond rating in the United States garnering its premier status, its
shadowed by the rugged peaks of the snowcapped Zirkel Range at the headwaters of the Elk River; Vista Verde Ranch
consists of 587 acres.
STEAMBOAT SOTHEBY'S INTERNATIONAL REALTY
$16,250,000 | COLORADO, USA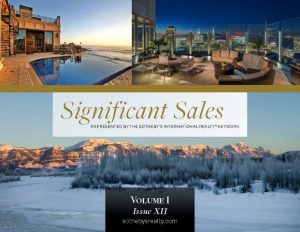 Extraordinary properties
Unique stories
Successfully represented.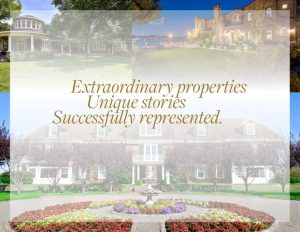 SOTHEBY'S INTERNATIONAL REALTY – BRIDGEHAMPTON BROKERAGE
$15,000,000 | New York, USA
This 16,000-square-foot waterfront estate was designed in 1903 for coal baron William Atwater by architect Henry Bacon, best known for his design of the Lincoln Memorial in Washington, D.C. Overlooking scenic Quantuck Bay with 620 feet of water frontage, the manor house boasts 24 rooms including, nine bedrooms, six fireplaces, nine-full and two-half-baths. The exceptional property includes a charming carriage house with century-old grape vines, and stand-alone four-car garage.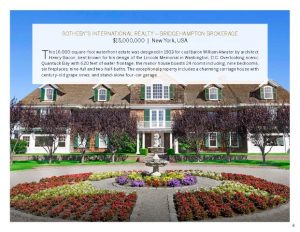 PACIFIC SOTHEBY'S INTERNATIONAL REALTY
$15,000,000 | California, USA
This oceanfront masterpiece is nestled on a bluff overlooking a scenic cove in La Jolla. Guests first enter the home through a spacious courtyard with a welcoming fireplace and carefully designed details. At nearly 8,700 square-feet, this three-story home has five bedrooms, 10 baths, an office, wine cellar, and a 12-seat movie theater. The oceanfront patios and lawn area provide the perfect ambiance to enjoy every sunset.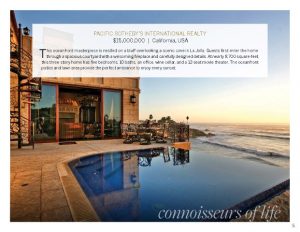 SOTHEBY'S INTERNATIONAL REALTY – SAN FRANCISCO BROKERAGE
$13,000,000 | California, USA
With approximately 5,500 square-feet of interior and exterior living space and nearly 600 feet above sea level, the Millennium Tower Grand Penthouse represented Northern California's highest and largest condominium available for sale. Sunrise to sunset, panoramic views of San Francisco landmarks include the Golden Gate Bridge, Angel Island, Bay Bridge, San Francisco Bay, Yerba Buena/Treasure Island, the Downtown Financial District, Transamerica Pyramid, and cross-Bay counties from Marin and the East Bay, to the Peninsula.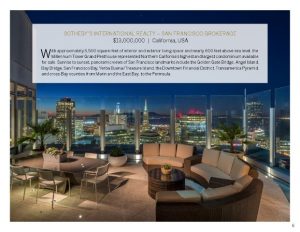 HÔM SOTHEBY'S INTERNATIONAL REALTY
$12,500,000 | California, USA
An incredible Lido Island home, sitting on 60 feet of Newport Channel waterfront, this impeccable Tuscan estate is overflowing with rustic style and amenities; exposed wood beams, arched windows, wrought iron
banisters, stone and wood floors are among its flourished details. This home offers over 5,400 square-feet of living space right on the water next to a beach. The luxury master with his/her spa style en-suites, a main floor bedroom, four fireplaces, an elevator, a large multi-purpose laundry/craft room, gym space, and an office compose some of the home's main living spaces. The kitchen is gourmet, flowing out to the covered patio for indoor/outdoor entertaining and dining al fresco and the private dock offers two spots; one, for a 70-foot vessel on the east side, and a second for a 50-foot vessel on the west.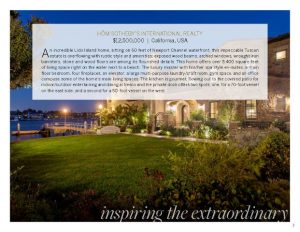 SOTHEBY'S INTERNATIONAL REALTY – PACIFIC PALISADES BROKERAGE
$11,000,000 | California, USA
This magnificent bespoke Point Dume estate with coveted "Riviera 1" beach access is gated and private; a Hamptons shingle style two-story home, it offers an elegant portico entrance and inviting two-story foyer,
antique walnut floors, wood plank walls, coffered ceilings, and formal living and dining rooms, each with fireplace. The cook's kitchen features black granite countertops, marble work island, and a separate prep area with two-dishwashers and breakfast room. The serene upstairs owner's suite features a rotunda seating area and spa like bath, while two children's rooms adjoin a separate study. An additional maid's room off of the kitchen, inviting family room with access to the bluestone patio and stone fireplace, pool with spa and pool house, and lush, manicured grounds are also featured in this sprawling property.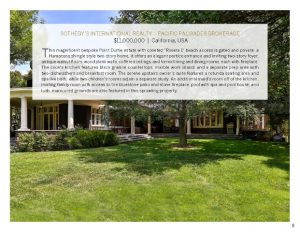 JACKSON HOLE SOTHEBY'S INTERNATIONAL REALTY
Price Undisclosed | Wyoming, USA
Located on the west bank of the Snake River, south of the small town of Wilson, Wyoming in Jackson Hole, this utterly magical and picturesque environment includes large mature trees, views over the Snake River to the Grand Teton and the ambiance of smaller waterways within the interior of the property. Excellent trout fishing abounds, not only on the Snake River itself, but also in a pristine and beautiful lake and along the smaller streams that meander through the property. Wildlife and waterfowl viewing are a daily ritual, with moose, elk, deer, otters and other marine occupants as neighbors. Trumpeter swans, bald eagles and other large birds also frequent this ethereal propertyperty.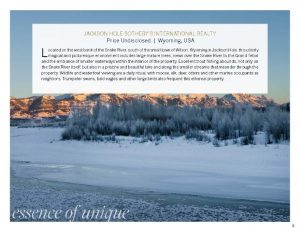 Noteworthy Sales
From Around the World…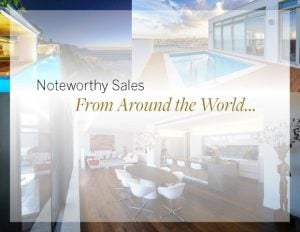 CZECH REPUBLIC SOTHEBY'S INTERNATIONAL REALTY
€3.000.000 | Czech Republic
The original farmhouse from the early 18th century, built by the aristocratic family of Auerspergs, has been sensitively renovated using the finest materials and advanced technologies. This exceptional estate is the result of nearly three years of costly and precise reconstruction with timeless modern design and unique genius loci. Emphasis was placed not only on the careful selection of materials, but also the precise workmanship. Natural materials were used during the restoration including Italian Bassaltina and solid oak installed in most living spaces.
MALTA SOTHEBY'S INTERNATIONAL REALTY
€4,050,000 | Malta
Finished and furnished to the highest caliber, this extraordinary penthouse exudes style and comfort. This unique and one-of-a-kind property has spectacular sea vistas and views of the capital city, Valletta. Located in one of Malta's premier lifestyle developments, this duplex penthouse has wraparound terraces, with an alluring private pool. This magnificent waterfront property comprises a four-car garage, bespoke kitchen with state-of-the-art appliances, four bedrooms all en-suite, and a home cinema, perfect for entertaining guests.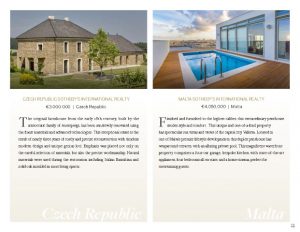 LEW GEFFEN SOTHEBY'S INTERNATIONAL REALTY
R 120,000,000 | South Africa
An estate of incomparable grandeur and palatial elegance, this gated residence sits on over 1,600 square-meters in one of the most coveted streets in Clifton. Magnificent in scale and unstinting in luxury, the home is created for living and entertaining on a grand scale. The property includes six bedrooms – four upstairs, two on the guest floor and two staff quarters. Additional amenities include a wine cellar, indoor gym with pool and spa and a commercial elevator. Modern contemporary finishes include marble slabs, wooden floors and smart technology. A Lutron lighting system, touch screen alarm, and CCTV all add to the home's beauty and livability. A detached guard house with security room services this community.
MELBOURNE SOTHEBY'S INTERNATIONAL REALTY
AUD 9,250,000 | Australia
Commanding spectacular views across the Fitzroy Gardens to the city, as well as distant views of Port Phillip Bay, this stunning world-class apartment represents the ultimate luxurious Melbourne lifestyle experience. Enviably positioned within the premium 150 Clarendon Street development and enjoying house-like proportions, this exquisite domain delivers a flawless array of living and entertainment spaces. Only moments to local shopping, cafes, restaurants, The Fitzroy Gardens, The MCG, Melbourne Park, the CBD and transport.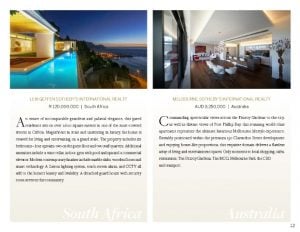 Additional Sales of Note
PACIFIC SOTHEBY'S INTERNATIONAL REALTY | $10,000,000 | California, USA
DREYFUS SOTHEBY'S INTERNATIONAL REALTY | $9,800,000 | California, USA
JAMESON SOTHEBY'S INTERNATIONAL REALTY | $9,650,921 | llinois, USA
SOTHEBY'S INTERNATIONAL REALTY – BRIDGEHAMPTON BROKERAGE | $9,250,000 | New York, USA
PACIFIC SOTHEBY'S INTERNATIONAL REALTY | $8,850,000 | California, USA
JACKSON HOLE SOTHEBY'S INTERNATIONAL REALTY | $8,600,000 | Wyoming, USA
PREMIER SOTHEBY'S INTERNATIONAL REALTY | $8,343,750 | Florida, USA
ONE SOTHEBY'S INTERNATIONAL REALTY | $8,300,000 | Florida, USA
ASPEN SNOWMASS SOTHEBY'S INTERNATIONAL REALTY | $8,250,000 | Colorado, USA
DANIEL GALE SOTHEBY'S INTERNATIONAL REALTY | $8,250,000 | New York, USA
SOTHEBY'S INTERNATIONAL REALTY – WINE COUNTRY – EAST NAPA STREET BROKERAGE | $8,000,000 | California, USA
SOTHEBY'S INTERNATIONAL REALTY – SAN FRANCISCO BROKERAGE | $7,200,000 | California, USA
GLACIER SOTHEBY'S INTERNATIONAL REALTY | $7,717,525 | Montana, USA
RUSSELL POST SOTHEBY'S INTERNATIONAL REALTY | $7,250,000 | Florida, USA
ONE SOTHEBY'S INTERNATIONAL REALTY | $7,000,000 | Florida, USA
JULIA B. FEE SOTHEBY'S INTERNATIONAL REALTY | $7,000,000 | New York, USA
SUMMIT SOTHEBY'S INTERNATIONAL REALTY | $6,900,000 | Utah, USA
DREYFUS SOTHEBY'S INTERNATIONAL REALTY | $6,700,000 | California, USA
SOTHEBY'S INTERNATIONAL REALTY – BRIDGEHAMPTON BROKERAGE | $6,500,000 | New York, USA
HÔM SOTHEBY'S INTERNATIONAL REALTY | $6,489,083 | California, USA
DECKER BULLOCK SOTHEBY'S INTERNATIONAL REALTY | $6,375,000 | California, USA
LIV SOTHEBY'S INTERNATIONAL REALTY | $6,300,000 | Colorado, USA
PACIFIC SOTHEBY'S INTERNATIONAL REALTY | $6,200,000 | California, USA