Clark & North Routt
Known to locals as the Outdoors-man's Paradise, Clark and North Routt certainly lives up to its nickname. With a slightly higher altitude than Steamboat Springs, North Routt receives more snow. It is a target destination for back country skiing and snowmobiling.  In the summer, Steamboat Lake, Pearl Lake, Hahn's Peak, and Sand Mountain all provide great opportunities to hike, bike, boat, swim, and camp.
Steamboat Lake is a year round playground and has something for everyone. This 1053 acre State Park offers fishing, camping, and hiking opportunities, with a full service marina and educational visitors center. The landscape is surrounded Zirkel wilderness area. The Zirkels is a 160,648 acre wilderness area has more than 70 lakes, 15 peaks over 12,000 feet and miles of trails to explore.  Located about 16 miles away from Steamboat Springs, Clark provides the atmosphere of privacy and seclusion while still giving access to a small city; the General Store, Post Office and Gas station all share the same iconic building. Home to the  North Routt Charter School, a more easily accessible option for education that is conveniently located for both children and adults. However, the Steamboat Springs School District also has a bus route to pick up kids that would rather attend the schools in Steamboat.
Clark provides residential homes that are intimate and secluded as well as homes that are located in small communities. The range of real estate varies from small acreage parcels to expansive pieces of undeveloped land. North Routt is a charming, adventuresome area that is ideal for anyone looking to experience the outdoors.
Search Real Estate In North Routt
North Routt Popular Searches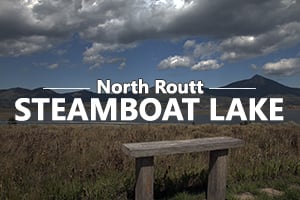 Trending North Routt Homes