THERE'S AN APP FOR THAT …
The Boyd Team & Steamboat Sotheby's International Realty announces the launch of SIR Mobile.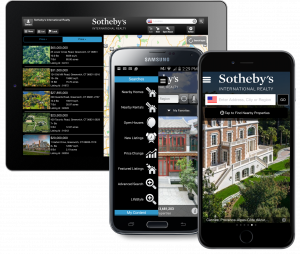 The saying, "there's an app for that," has never been more true, especially for real estate.
Forget about all those huge real estate sites like Zillow and Trulia and their corresponding apps, which, let's face it, are often grossly inaccurate. Steamboat Sotheby's International Realty has partnered with Smarter Agent, the leader in mobile real estate technology to launch our very own free app, SIR Mobile.
There's no doubt technology has changed the way we do business, especially in real estate. We know that for some, technology can be annoying, distracting, and even overwhelming. And sometimes it seems like half the world walks around their nose in their phones, connected on one level and disconnected on another, with so-called "social media" making people less social than ever.
That's why we've harnessed technology to do the opposite.
Now it's easier than ever (as much as we hate to use the tired expression "one click" it's actually true) to get all the most up-to-date local real estate information you need on your mobile device, from anywhere, anytime.
It's never been more convenient to preview a home right from your mobile device, with high quality photos and an interface that is easy and intuitive. Or connect with me to get more information – again, one click, and you can email or call. The power is literally in your hands, because our app has all these cool features and more.
GPS/Location-Based Search

Picture this: you're driving through your favorite neighborhood and you see a "For Sale" sign in front of a cool house. Maybe you are looking for your next home. Or, maybe you are just curious – you want to see what it looks like on the inside and are curious about the asking price. Either way, you want more information but aren't at the point that you want to talk to an agent or set up a showing of the property. Well, with SIRMobile, you can have a virtual showing of the home right there from the comfort and privacy of your car! Simply click on the "compass" navigation feature, and the GPS search will quickly pull up all the listings closest to your location, making it super easy to find the listing you're looking for (or in this case, looking at). While you are there, the app will also show you other properties in your immediate vicinity. If there is another one that looks intriguing but you don't quite know how to find it from where you are, the GPS feature of SIR Mobile will provide you with driving directions.

Super-charged Search

Find homes for sale, search recent home sale prices, or refine your search to your heart's content. Want to find a home near the ski area? Looking for something in Old Town? Always dreamed of a big ranch property where the deer and the antelope (okay, elk) play? Hone in your property search and get to know the neighborhoods that you are interested in. A dynamic map feature will also display all available homes for sale based on your location or the neighborhood you might be interested in.

Save and Share

Maybe you're planning your next trip to Steamboat, and you are thinking about checking out some real estate while you are in town. Good news! With the SIRMobile app, you can do your research ahead of time and save your search or favorite properties to view later, and they will all be saved right on your mobile device so that you can quickly and easily go back to them at any time. Let's say, while doing your research, you stumble upon your dream property in Steamboat Springs and you have to let your spouse, your kids or your best friend see it. No problem! Using the "Share" feature of SIRMobile, with one click, you can send the property to another mobile device via text or email, or share it on Facebook or Twitter. You can also use the "Send to a Friend" feature to forward the app to anyone so that they can join in on the fun. The iPad app even allows you to take notes on your various searches.
Connect with a real, live person!

OK – you have been driving around, doing your research, and you have chosen a handful of favorite properties. You've viewed them online, seen the photos, read about the features, and you want to check them out in person. This is when "connectivity" becomes a good thing. Unlike those big real estate sites, SIR Mobile makes it easier than ever to connect with a broker. No more calling into an 800-number that sends you to who-knows-where, and who-knows-who. Select the "Call to See" option to connect with a local Steamboat Sotheby's International Realty professional – Cam Boyd, someone who actually knows what they're talking about, who can give you up-to-date and accurate local market information, or who can schedule a time to show you the property.
Getting the App

Downloading the app is free and fast. It is "light" so it won't take up a lot of memory or data on your device. Simply search "SIRMobile" from your App Store, or visit our SIR MOBILE APP WEBSITE where you will be able to enter your phone number and have the app sent directly to your phone or iPad.
GET THE APP