Downtown Steamboat Springs, Colorado
[idx-platinum-widget id="13798-46873″ ]
Downtown
Downtown, or "Old Town", is the heart of Steamboat Springs. Complete with charming shops, amenities, and the adjacency of the Yampa River, Downtown has a place for everyone to enjoy. From Downtown, you have access to many appealing activities; some of the finest skiing, hiking, biking, fishing, shopping or dining are all available at your fingertips. Many local amenities are there for your benefit; the Old Town Hot Springs, Howelson Hill Ski Area, and the Bud Werner Memorial Library are great opportunities to experience Downtown. Whether you decide to hike up Howelson Hill or tube the Yampa River, there will always be exciting adventures to complete.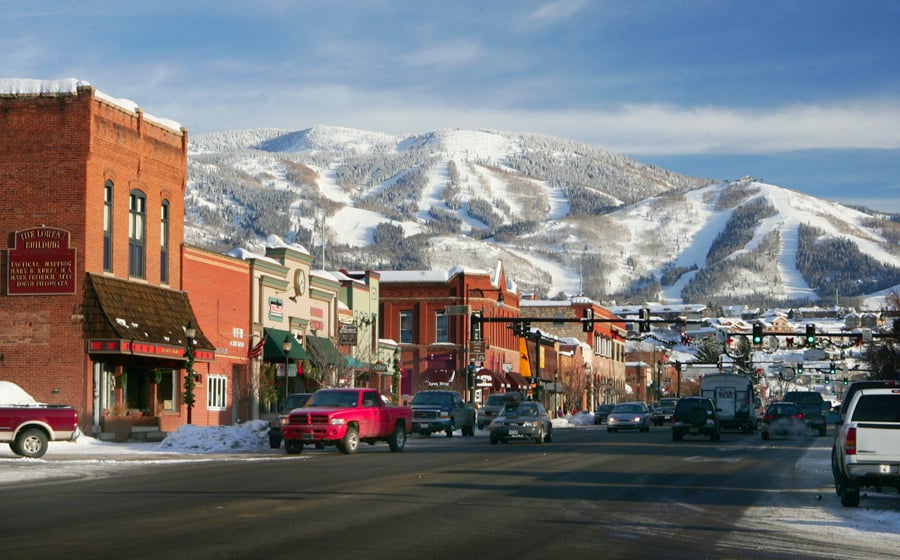 The Historical western culture is noted in many shops such as F.M Lights and Sons, but Lincoln Avenue and Yampa Street are also coupled with a lively, festive aura that is only found in a small ski resort town. One of Steamboat's lasting traditions, Winter Carnival, is celebrated along Lincoln Avenue. Kids will be pulled on skis by galloping horses over jumps for your entertainment. Snow sculptures will decorate the sidewalks. The Winter Carnival Parade and Night Show will captivate viewers of all ages as skiers jump through rings of fire and perform in lighted costumes.
Steamboat Springs not only offers a superb education system, but it offers schools right in the heart of the town. Soda Creek Elementary School rests only three blocks off of Lincoln Avenue. It is the ideal location to allow students to walk or ride bikes to school safely and provides programs to help students return home. Throughout Old Town, there is an eccentric blend of newer, more modern homes and older, more historical homes.  Many streets consist of unique houses that contain a traditional essence yet have been remodeled in a polished, upscale manner. New condominiums complexes are developing and allow a more city-like style of living. Downtown Steamboat Springs offers endless opportunities to explore, live, and enjoy the beauty and comfort a ski town has to offer.
---
Let's Find Your New Home in Downtown Steamboat Springs
When you're ready to explore the Downtown real estate listings, I can help you find the home that's perfect for you.
Call me at 970-879-8100 or send me a note to tell me what you're looking for. I know each subdivision and neighborhood, and I'll be happy to put that knowledge to work for you.
---
Steamboat Schools
Children in the Downtown area of Steamboat Springs are part of the Steamboat Springs School District Re-2.
Pre-School
Steamboat Springs Early Childhood Center
Elementary Schools
Strawberry Park Elementary School
Middle School
Steamboat Springs Middle School
High Schools
---
Trending Downtown Steamboat Homes
[idx-platinum-widget id="13798-46999″ ]