MICRO
MARKET REPORT
2020 Mid-Year
MARKET OVERVIEW
Despite what has been going on globally during the first half of 2020, the Steamboat Springs and Routt County real estate market has remained strong. Total residential sales volume in Routt County was at $213 million through the end of June. Even with the pandemic and a lack of inventory, this is only 23% less than the same time frame in 2019. Total sales volume was $255 million, a 16% decrease year-over-year. In the residential segment of the market, there were 279 properties sold, a 28% decrease from the 386 properties sold in the same time frame in 2019. Regardless of the decline in number of transactions year-over-year, sales volume remains strong due to the increase in property values. The median sales price for a residential property in Routt County went from $510,000 through mid-year 2019 to $555,000 in 2020 – an increase of 9%.
The market continues to see an upward pressure on values due to lack of inventory in many segments, coupled with sustained, even arguably increased demand from buyers. National trends show that buyers are searching for real estate in more rural markets like Steamboat, and Routt County is a very desirable area for location-neutral workers. This potential increase in demand could further skew the demand vs. supply scenario that we currently see in our market.
The macro-market conditions and trends noted above are a very high-level view, including all different types of properties throughout Routt County. The micro-market reports on the pages that follow are designed to break down the trends and statistics into smaller areas, by property type. This helps give you greater insight into the market conditions in specific segments that are relevant to you.
The Steamboat real estate market is complex and extremely varied, based on a multitude of factors. Our team of real estate professionals is here to help you decipher exactly how market conditions, trends, and stats pertain to you.
MID-YEAR
Steamboat Springs
Imagine living your best life and enjoying everything that you love about Steamboat Springs right out your front door, or within a short bike ride. Steamboat Springs encompasses the areas known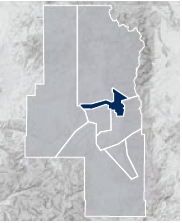 as the Mountain, Fish Creek, Downtown, Strawberry Park, and West Steamboat, stretching from Walton Creek Road on the south side of town to Steamboat II and Heritage Park on the west end. While each different area boasts its own unique "personality," they all offer Steamboat's eclectic mix of ski town atmosphere and community, coupled with Western heritage and a lower, more laid-back way of life. World-famous powder and tree skiing, the world's oldest Winter Carnival, the nation's best small-town rodeo, over 75 restaurants, and bars, and the friendliest people you will find anywhere in the world—these are just a handful of the things that make Steamboat Springs such a special place. No matter what activities you enjoy, Steamboat Springs will have something for you. Your best life starts with a home that inspires you, and there is no better place to call home than Steamboat Springs, Colorado.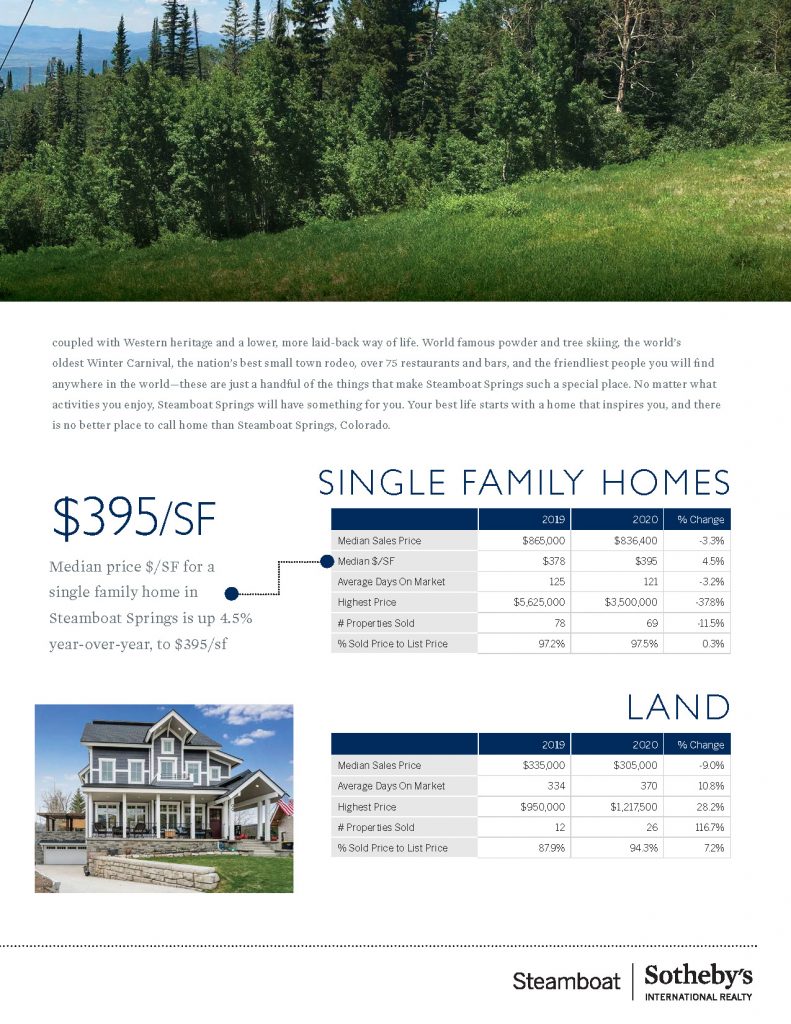 South Valley
The South Valley stretches south of Steamboat Springs, generally along the Highway 131 corridor and along the Yampa River from the tailwaters of Stagecoach Reservoir to Steamboat. Beautiful and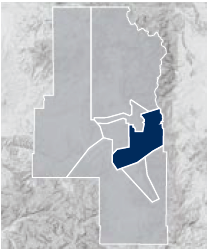 picturesque, this area boasts high-end developments with low-density living. Some of the developments are LPS's (Land Preservation Subdivisions) and many of the ranches are under conservation easements, ensuring that the area will maintain its vast open spaces and will preserve the abundant wildlife.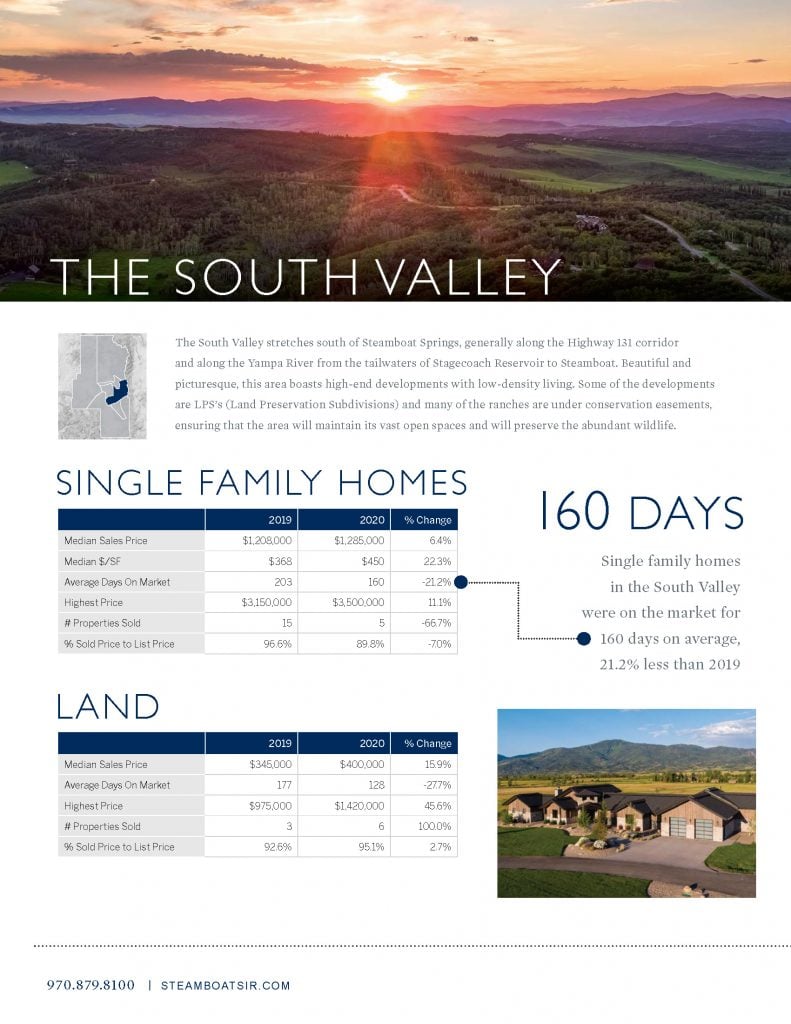 Elk River and North Routt
The Elk River area is located northwest of downtown and follows the Elk River to the town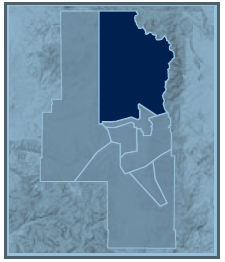 of Clark. The area known as North Routt continues north past Pearl Lake, Steamboat Lake and Hahn's Peak to Columbine. This area is an outdoorsman's paradise for fishing, hunting, snowmobiling, trail riding and more. If you like to be close to Steamboat Springs but also want a sense of privacy and seclusion, the Elk River Area or North Routt may be the spot for you.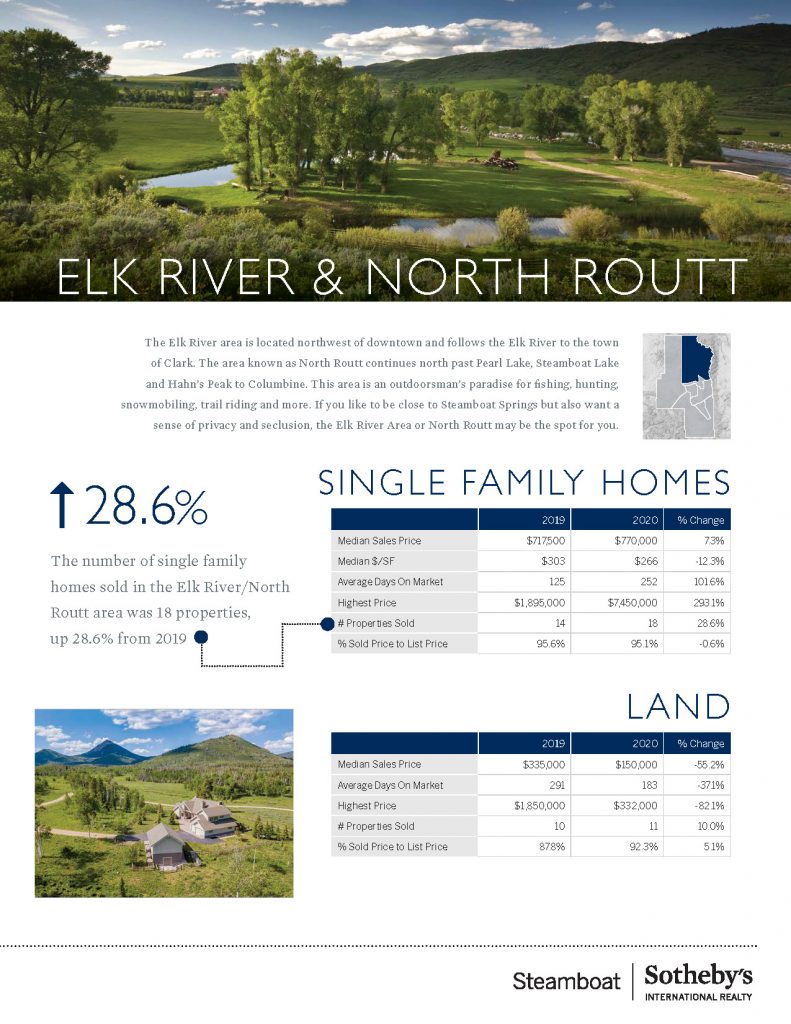 Stagecoach
Stagecoach is a residential community located approximately 20 miles from the town of Steamboat Springs, adjacent to Stagecoach Lake State Park. This area offers a myriad of recreational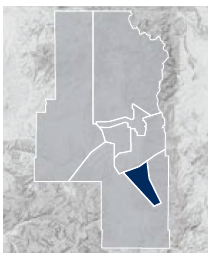 opportunities, including boating, fishing, ice fishing, biking, hiking and more. This is a beautiful area overlooking the Stagecoach Reservoir where several subdivisions include a little bit of everything: condos, townhomes, single family homes, small ranches, "off-grid" properties, rural vacant land, and large acreage parcels.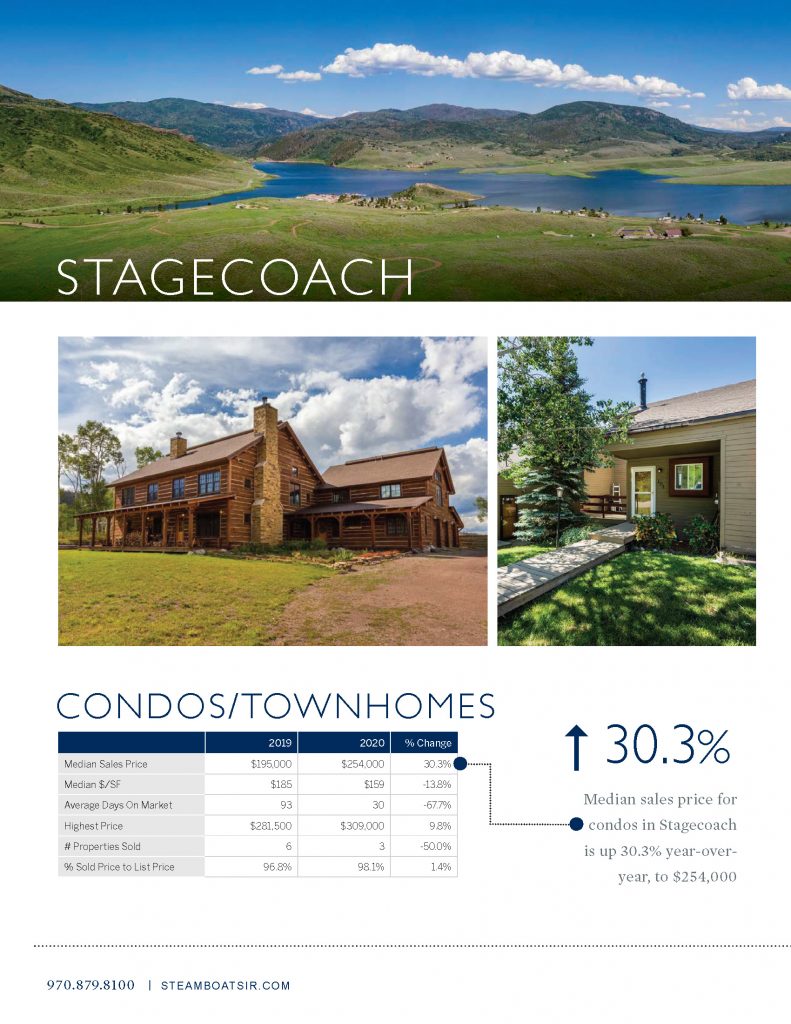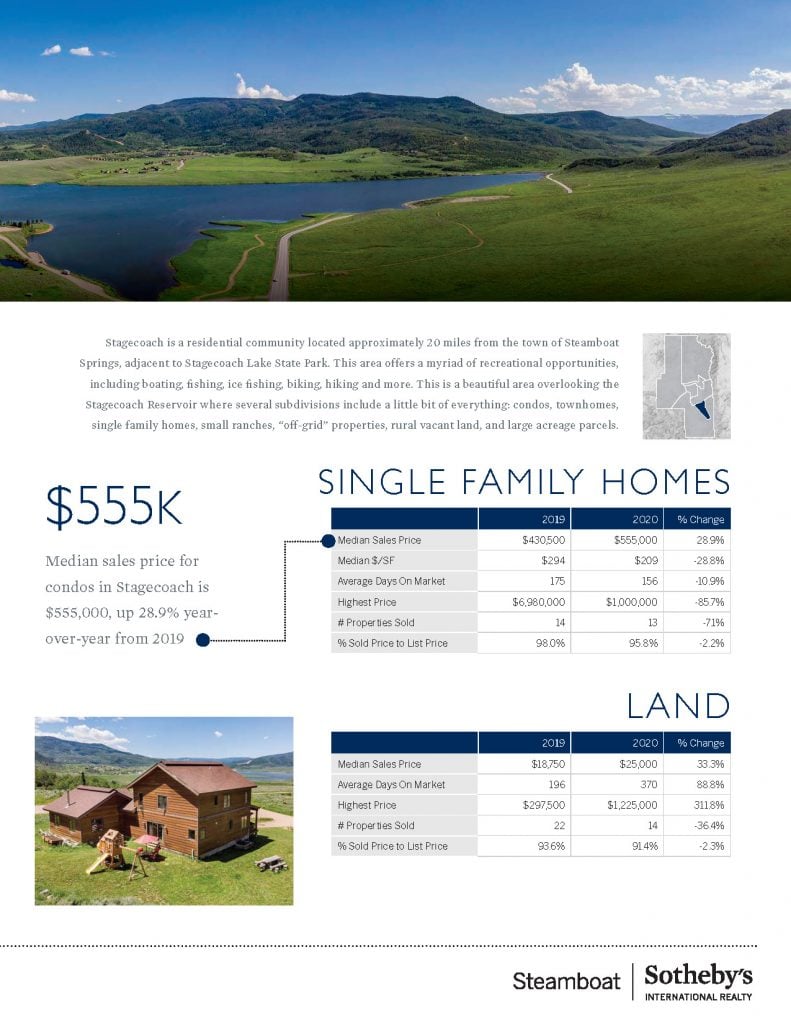 South Routt
The South Routt area of the Yampa Valley encompasses Oak Creek, Phippsburg, Yampa, Toponas and the rural properties between. This area begins roughly 25 miles from Steamboat Springs as you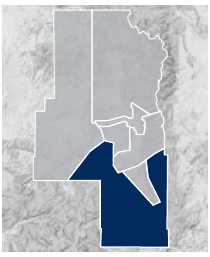 head south on Highway 131. These smaller communities have a history and tradition of mining and railroading. National Forest surrounds many of these towns and the Flat Tops Wilderness area and Colorado River are easily accessible offering endless recreation, including hunting, fishing, camping, and river rafting.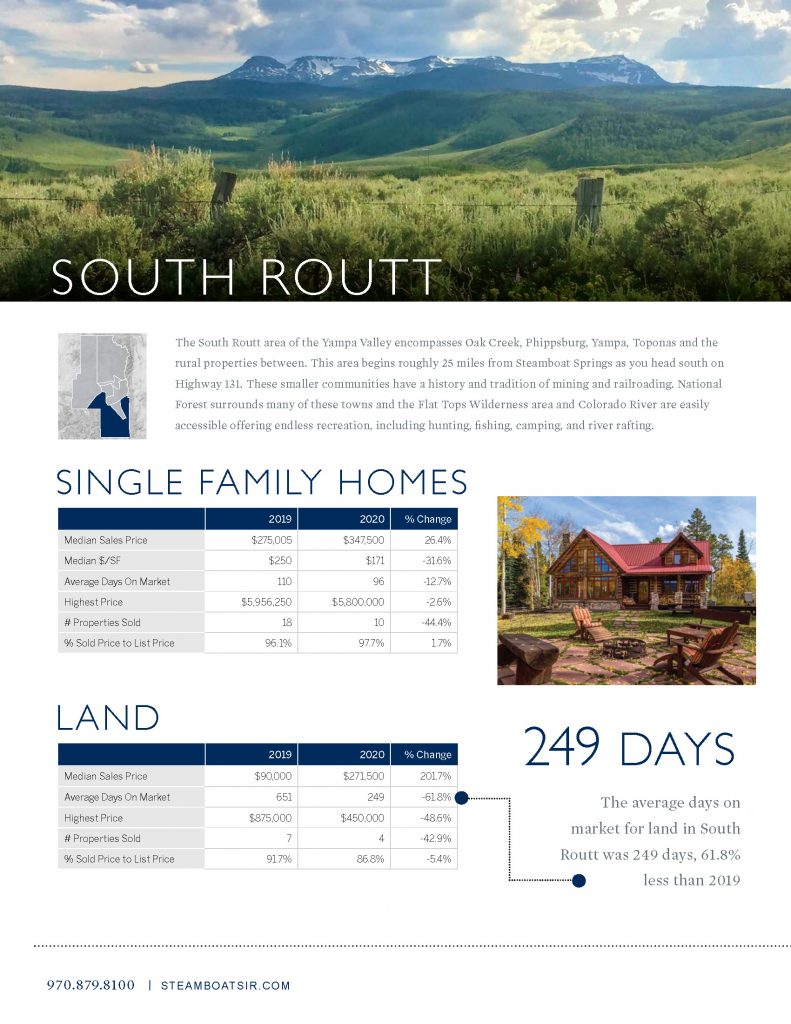 Hayden
The town of Hayden lies approximately 25 miles west of Steamboat Springs along Highway 40. This wonderful small-town environment offers older homes, smaller acreage parcels, and some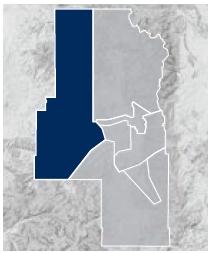 subdivisions with newer homes. Hayden High School is located in the center of town, and the Routt County Fairgrounds and Yampa Valley Regional Airport are located here as well. Hayden offers small-town charm with homes that are more affordable than those in Steamboat, while still being close to all of Steamboat's amenities.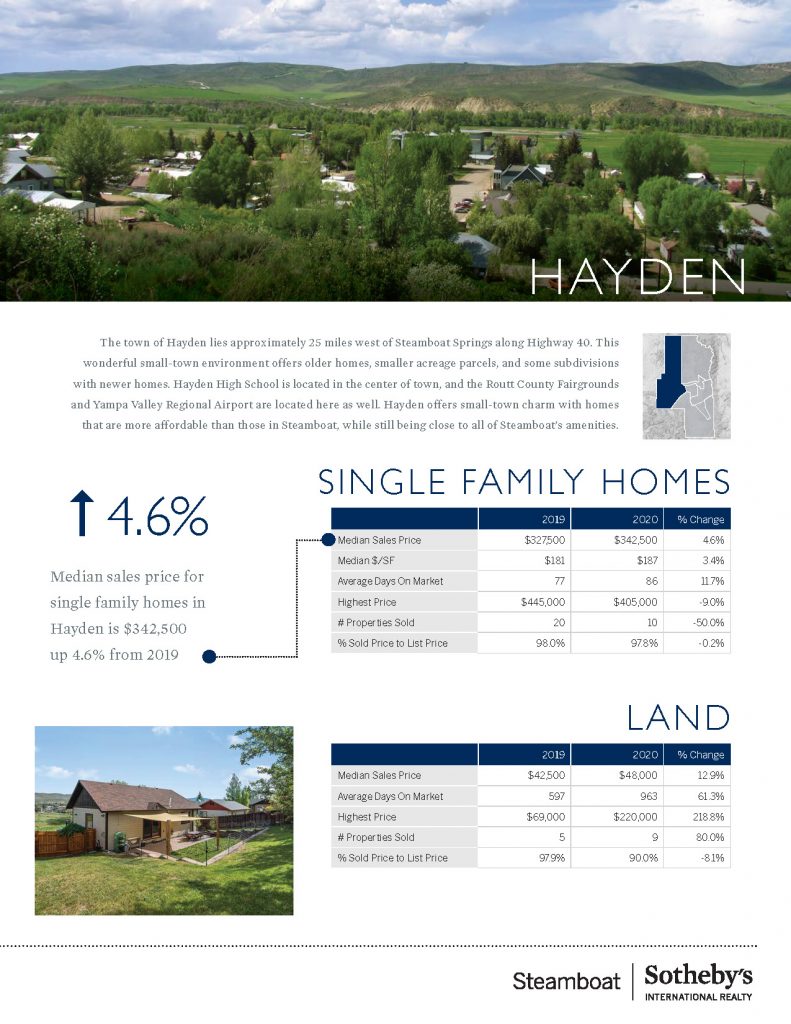 Inventory Analysis
ABSORPTION RATE
When analyzing the real estate market, one of the factors that needs to be taken into consideration is absorption rate.
The absorption rate is the number of months it would take to sell the currently listed properties in the market. As of January 1, 2020.
The absorption rate is one of the metrics used to attempt to predict home prices and sales activity going forward. The absorption
rates noted here indicate how many months it would take for all of the currently listed properties in a particular category to sell,
based on sales activity over the past 12 months.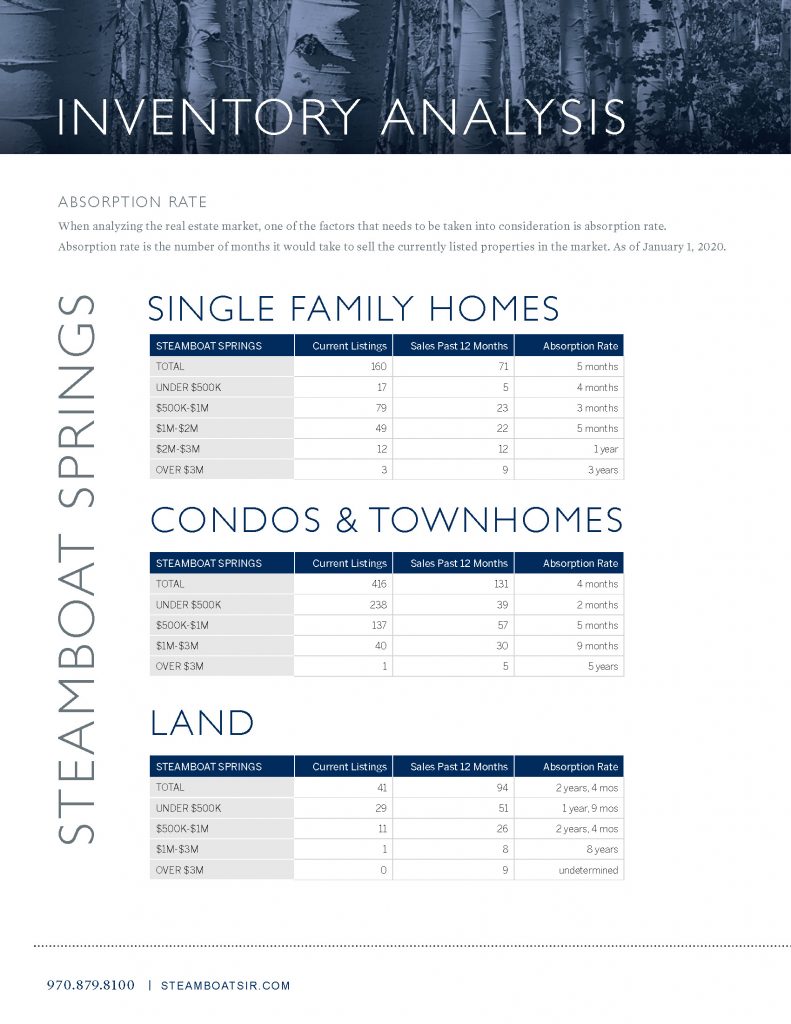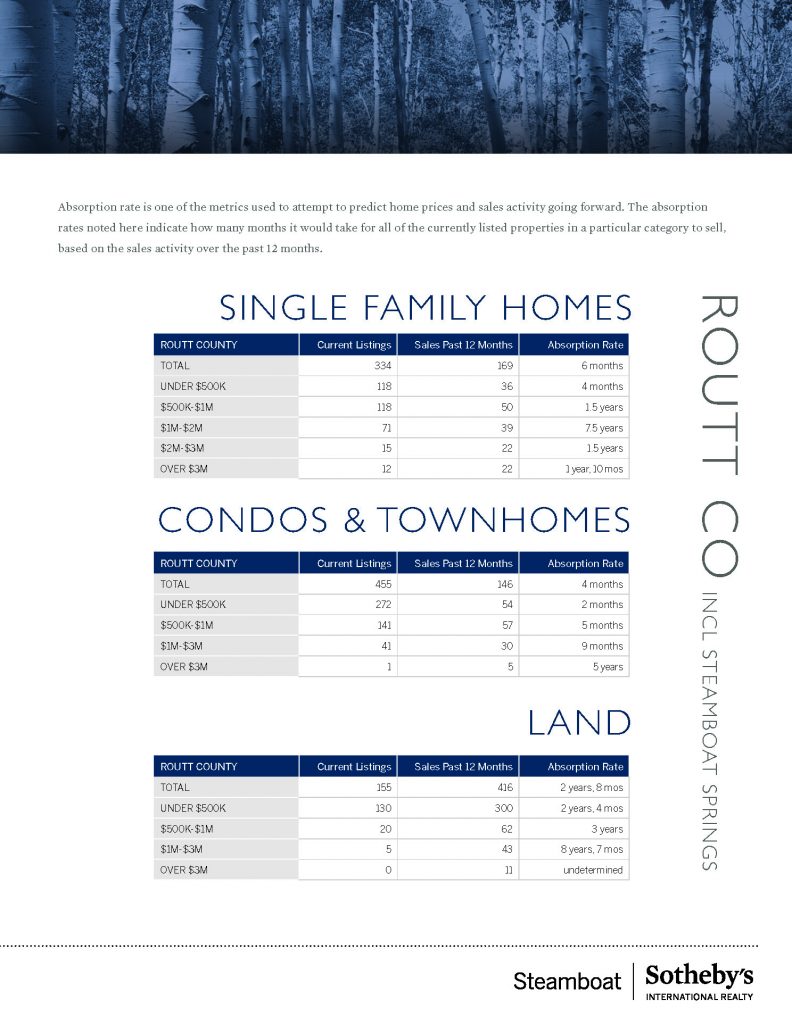 ---
---
---