We are so excited to announce that local Steamboat artist Michelle Ideus has created an amazing piece to be featured as the 2018 Winter Carnival Commemorative Poster art work! Her style is signature, whimsical, vibrant and unmistakable. The original framed art will be auctioned at the Steamboat Springs Winter Sports Club Foundation's Stars at Night Gala on Dec. 29, along with the first three signed, numbered and framed limited edition giclee prints on silent auction. 22 other limited edition, signed, numbered and framed prints are available for purchase by contacting [email protected], and the posters will be available for sale at multiple locations around town beginning in 2018, with 100% of the proceeds from the poster program going to the SSWSC.
---
Local artist Michelle Ideus will create an original work of her whimsical collage art for the 2018 Steamboat Winter Carnival commemorative poster, benefiting the Steamboat Springs Winter Sports Club.
Originally Posted on SteamboatSIR.com
Michelle Ideus is a giggler.
The Steamboat artist, who has been selected to create the illustration for this year's esteemed Winter Carnival poster, punctuates most of what she says with an infectious laugh. That light-heartedness and refusal to take herself too seriously also comes through in her whimsical, colorful work.
Ideus has worked in many mediums, from water color and graphite drawing to painting in oil and acrylic. And then one day, she began to throw them all together into collage pieces that have become the hallmark of her current portfolio. Inspired by Steamboat's landscape and ranching culture, she'll start with a photograph and then create a sketch, then a painting, and then she'll layer all different kinds of mediums on top of that, from magazine scraps and tissue paper to glitter
Selected by Steamboat Sotheby's International Realty to create the art for the 2018 Steamboat Winter Carnival commemorative poster, she's up for the challenge, and will shake off whatever pressure she feels to make art for such an important event, with a signature giggle.
Where are you from, and how did you end up in Steamboat?

I grew up in La Grange, Illinois. I went on a camping trip with my big sister to Colorado when I was in high school and the rest was history. I studied art at Colorado State University and met my future husband Dean. We moved up to Dillon after we graduated and worked for Keystone and A-Basin for five years. After a stint wind surfing in the Columbia River Gorge in Oregon we ultimately moved to Steamboat. That was 15 years ago.

Tell us about your background in art. You work in so many different mediums. Has that always been the case or has it evolved over time?

After completing my Bachelor of Fine Arts from CSU, my art has evolved over time. I've always been into water colors, print making, drawing, and oil painting. When I moved to Steamboat, I decided to start working with acrylics because I wanted to be able to work anywhere in my house and not have the smell and cleanup required with oil paint.  That's when I started mixing.
What is your process? Where do you find your inspiration?

I started taking pictures of horses, which is something I hadn't done before. I was definitely feeling like I'd done a million still-life paintings, so I was ready to try something new.  I did these mini collages of horses on Masonite to see if people would like them. They did, so that shot me off into a new direction, painting with acrylics and doing collages on canvas and Masonite. Steamboat has this whole western feel, and I knew I wasn't a realist or a western painter, but I wanted to build off learning from other people's stories. I started taking pictures of people's horses and interviewing the owners. The more I could learn, the better off I was; it just made it very personal. I'm not a horse person, but that's part of what makes these animals so intriguing to me.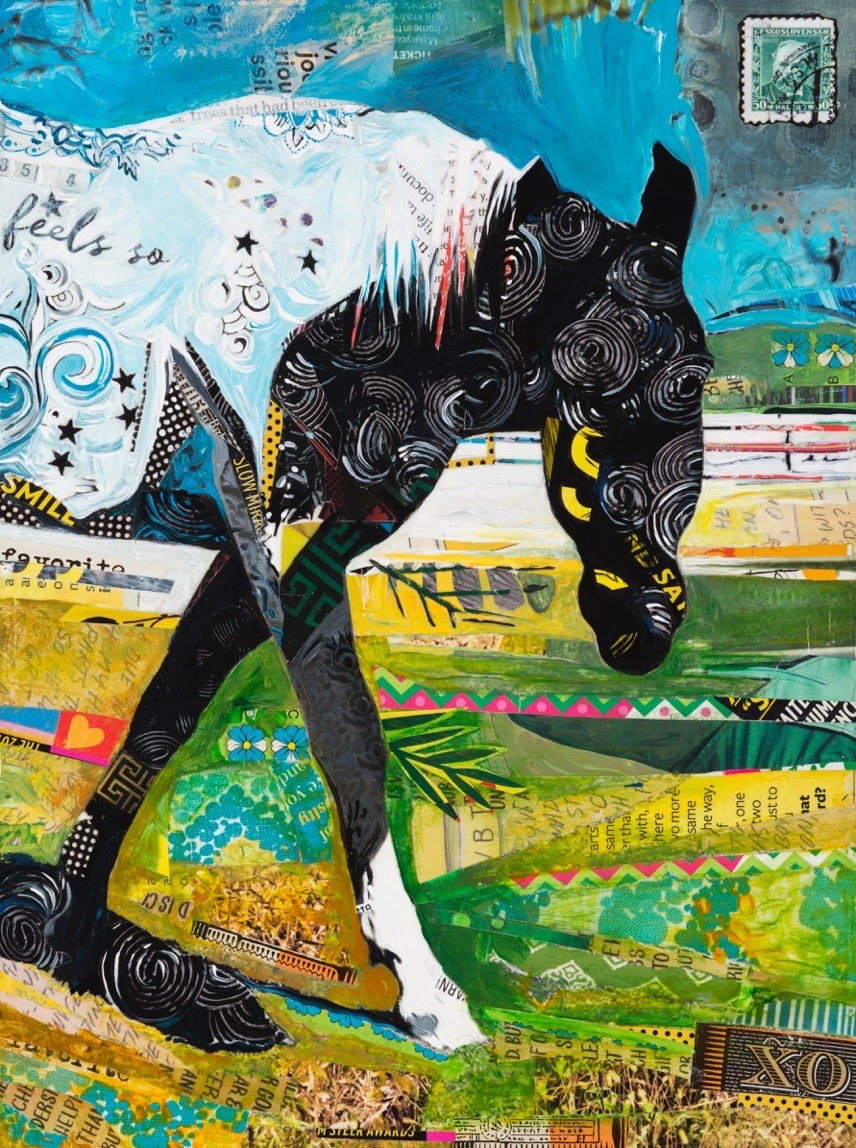 What are some of your collaging techniques?

I start with a photograph and then do a sketch on canvas or Masonite. Then I'll create a painting with acrylic and then build a collage over that using all kinds of scraps from magazines, newspaper, homemade paper, or whatever I might find. I use a special kind of varnish that's not only a finish, but also an adhesive. I can paint and then I can flip-flop around with gluing pieces of paper and then painting over it again. Sometimes I can lay a bunch of stuff down, and sometimes I'll be panting and collaging and back and forth. The varnish is my buddy; it dries clear and slightly glossy. I like to integrate it a bunch. Sometimes I'll come across something and add it in later. I never know where the collage is going bring me and that's always the fun part.



What is your plan for the Winter Carnival poster? What does it mean to you become part of Steamboat iconography?

It's such a big deal in Steamboat. My 10-year-old son is in Winter Sports Club and I've been able to experience the whole event as a mom so I really know what this is all about. I have a very good friend, George Fargo, who is a local professional photographer and artist. It was important to me to begin with a strong image, so he and I collaborated on a photo for the painting. We kind of merged two different photos that I loved. I knew I wanted a certain feel, to be able to combine those more traditional images with something new. I have done a few posters in the past but this one is such a big deal! I am really proud of how it turned out, and can't wait to share it with Steamboat. It's a huge honor and I hope people love it.

VISIT MICHELLE'S WEBSITE for more information and samples of her work.